In two thousand and twenty-one, to write new paths
After having properly buried this very curious year 2020, here we are at the threshold of 2021: a beautiful blank page to fill with pretty words! January is the month of great resolutions, the month when everything is still possible. For this new year, I wish us to use the right words to describe the path we want to build into the future.
Where do we want to go?
Admittedly, the period is not good. But we have to see the bright side of things: the health crisis is bringing us back to basics! Spending an evening with our loved ones on Christmas Eve suddenly takes on a new dimension. Here we are suspended together at a rare and precious moment. Confinement, a forced break in our very – too – busy schedules, gets us out of our daily grind. For some, we took advantage of these moments to reflect on what we want for ourselves and for the future of our children between two baking sessions and a WhatsApp aperitif with friends.
Maybe we should start by using the right words to describe the situation in which we find ourselves? Albert Camus wrote: "to name an object incorrectly is to add to the unhappiness of this world. I have always found that we put the emotional reality of the world to which we belong at a distance through our language, in particular the jargon of the company and even more that of our institutions.
An example: when we say "environment" shouldn't we rather use words that describe the world we love, to which we are attached by the flesh and the heart: "earth, sea, air, oaks, birds, butterflies, trout, mulberry trees, apples, deer, pears, the smell of dead leaves after the rain, the scent of cherry blossoms, vines, wine,… "? On this subject of the link between sensitive language and the reality of the world, I advise you to read the essay by philosopher David Abram "How the Earth was silent", published by La Découverte.
Does "sustainable development" correctly describe what we need to do? Shouldn't we instead write "organization of our society within the physical limits of the terrestrial world"? This would mean concretely laying the framework of the physical world at the base of everything we envision for tomorrow. "Sustainable development" would not be relegated to a simple communication exercise but rather to a forward-looking strategy, at the very heart of the future paths traced by our companies and our institutions.
That is to say, no longer saying but actually doing, committing to change in a concrete way and reporting it to its audiences in an honest and transparent way.
"We need courage to be able to hope. "
These are the words of the journalist and host of the climate fresco Juliette Nouel. For my part, I would like to say: "build strong enough threads of hope to allow us to have courage. "That is to say, imagine solid paths to build a future towards which we would be ready to collectively take action. It means basing our actions and decisions on sound information, starting with our economy.
Basing our action on realistic information means keeping the transition figures in mind. To give an order of magnitude, the average carbon footprint of the French, which stood at 10.8 tonnes of CO2 in 2017, must drop by around 80% by 2050 to reach the compatible 2 tonnes of CO2 per year. with the Paris Agreement. We reduced our emissions by 7% in 2020 with the Covid-19 crisis. Well, here we are, we will have to continue this momentum every year, even after the end of the health crisis. Not in a forced way, but in a voluntary way, by accelerating the transition to low-carbon energies, by rethinking our lifestyle within the limits offered by the Earth. Quite a challenge, isn't it?
Solutions exist, they are numerous, and others, many others, remain to be invented. For the inspiration and the courage to roll up our sleeves, I encourage you to read two books by Rob Hopkins " They are changing the world! " and "What if… we unleash our imaginations to create the future we want?" " at Actes Sud.
And you, what would be your words for the future?
I suggest you choose your own words to describe the future as Juliette Nouel does: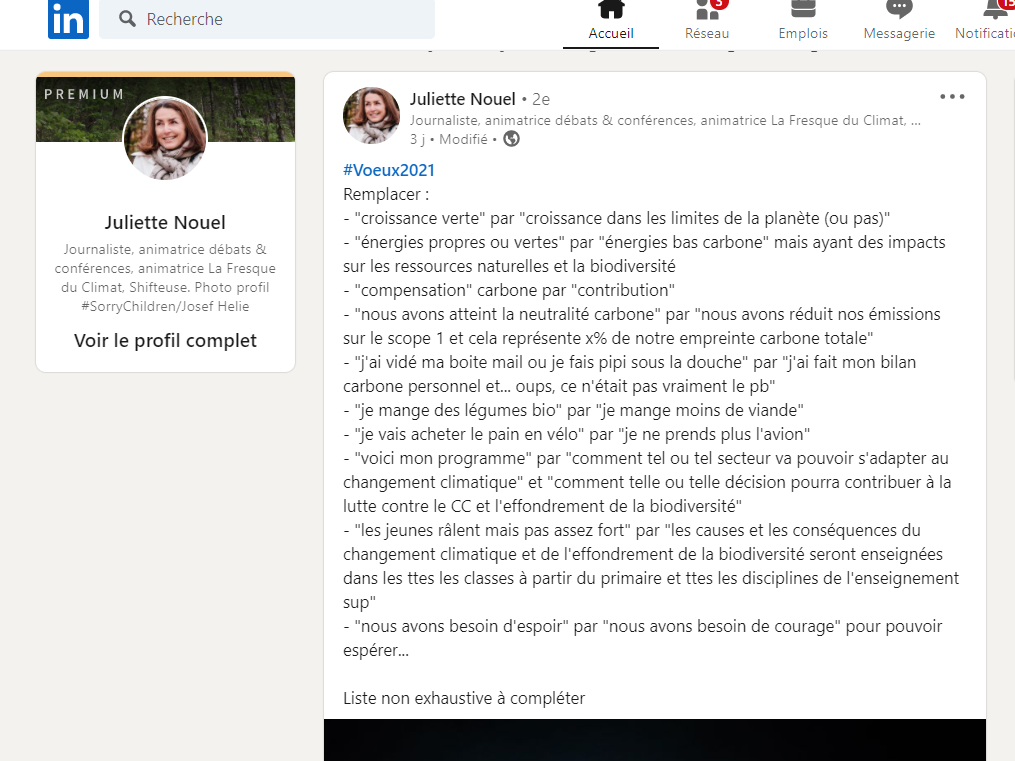 May we find inspiration to jointly chart our resilient paths into the future.
Read also
The art of shared storytelling to invent the future
Make something other than transhumanism desirable, Socialter, interview d'Alain Damasio
Preparation, career, beautiful car… These symbols of success that we no longer want The echoes
Discover Future relatives
The prospective writing workshops de PLUME Interactive
(C) Photo of A Ekodev
About us and this blog
We are a digital marketing company with a focus on helping our customers achieve great results across several key areas.
Request a free quote
We offer professional SEO services that help websites increase their organic search score drastically in order to compete for the highest rankings even when it comes to highly competitive keywords.
Subscribe to our newsletter!
This form is currently undergoing maintenance. Please try again later.
On October 20, the UK competition authority (CMA) fined Facebook £…
[easy-share counters=1 counter_pos="inside" native="no" hide_total="yes" fullwidth="yes" fullwidth_fix="100"]