how to use them to grow your channel
If you use YouTube professionally, you have to understand the YouTube analytics. Whether you want to monitor your content or use it as a marketing platform for your brand, you need to know what works with your videos and what doesn't.
YouTube analytics contain an incredible amount of information, from your audience demographics to traffic sources and even the keywords users use to find your videos.
All this data will help you improve your content marketing strategy and create better and better videos. Let's see how you can check your YouTube analytics and what are the top metricas that you should have controlled.
How to check your YouTube analytics
From the computer
To get started, log into your YouTube account and click on your profile icon in the upper right corner. Then select YouTube Studio.
You will be able to see some summary metrics in your channel dashboard. To see more in-depth analysis, go to the menu and select Analytics.
Within Analytics, you will be able to see the information of your channel organized in different tabs:
General description: total views, real-time views, average playback duration, estimated revenue, likes, subscribers …
Income: estimated revenue, views with estimated monetization, transactions, ad types, videos with more revenue …
Discovery: impressions, clickthrough rates, traffic sources, search terms, videos that suggest your content …
Audience: gender, age, countries and subtitle languages.
Interactive content: clicks on teasers, clicks on displayed cards, main cards, annotations …
To see even more detailed analytics, individual video metrics, and other functionality, click Advanced mode in the upper right corner. Here you can also download reports of the metrics you prefer in Google Sheets or .csv format.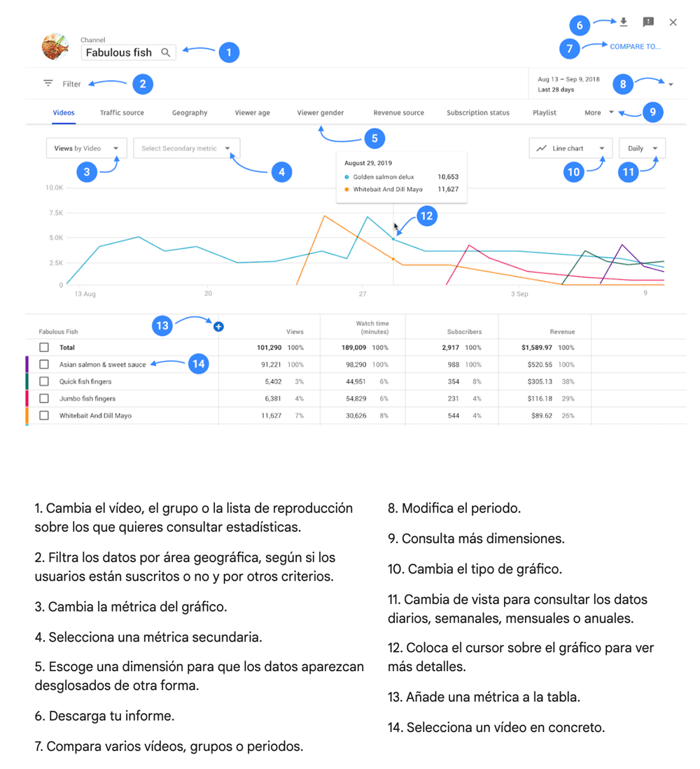 Another very interesting feature of the advanced mode are the comparative. You can compare the growth of your channel over the previous year, the performance of the videos during the first 24 hours, or the performance of a particular video against the global metrics of the channel.
From the phone
To view YouTube analytics on a mobile device, you first have to download the Youtube Studio app (It is available for both Android and iOS).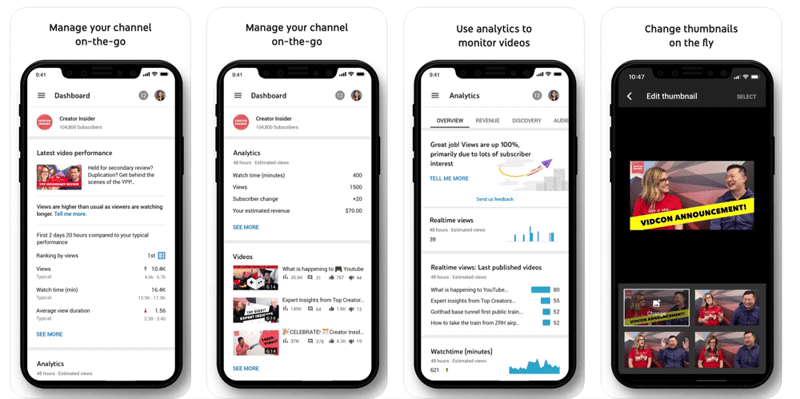 Once you've installed it, open it up and log into your account. As in the desktop version, you will be able to see a series of summary metrics in the main dashboard. To see more details, tap See more. Here you will find the same tabs as in the computer version to expand the information.
10 key metrics from YouTube analytics
1) Impressions
Impressions are the total number of times your video thumbnails have been shown to viewers on YouTube. It does not include external traffic sources such as videos embedded on websites or shared on social media. This metric puts you on the track of the visibility of your videos.
2) CTR
The percentage of people who have clicked on a YouTube thumbnail to view your videos. As in the previous case, only clicks within YouTube are included.
This metric is very important to understand if your thumbnails and the keywords you have selected for your videos are effective. Find out what your videos with higher CTRs have in common to optimize your SEO and YouTube and the effectiveness of your channel.
3) Traffic sources
YouTube traffic sources include both internal sources (searches, browsing, playlists, and suggestions) and external sources (search engines, social networks, and websites). This section can help you find out where and how viewers are discovering your videos. It can also help you locate potential collaborators (other channels that are bringing traffic to yours or websites that have included your videos).
4) Search terms
This metric tells you the main search terms that have led to your videos in the YouTube search box, so it is very useful to refine your keyword strategy.
5) Subscribers
The number of people who have subscribed to your YouTube channel over a given period.
If you hover over the number of subscribers, you can see how they stack up against your usual growth. If there is a significant change, try to identify the cause: if you have published more or fewer videos, if you have published a video that stands out particularly from the average …
6) Real-time displays
This YouTube metric refers to the number of views your videos have received in the last 48 hours, represented in a bar graph with an estimate of views per hour that is updated in real time. It is particularly useful for monitoring the impact of new video releases.
7) Channel display time
The total time of hours that viewers have watched all the videos on your channel during a given period. If you select a 28-day window, you can see how it compares to your average viewing time.
8) Average playback duration
How long your videos are watched on average. This metric is very important to know if your content is managing to retain the attention of users after capturing them through the title and thumbnail. If you notice problems with this metric, ask yourself if your content meets user expectations and if it is of the appropriate duration.
9) Hours of activity of your viewers on YouTube
A bar chart showing the hours and days when more of your viewers are on YouTube. It is very interesting to take this into account when planning the launch of new videos to achieve maximum impact.
10) Other channels your audience watches
YouTube offers demographic data about your viewers, such as gender, age, or location. But if you want to get a real idea of ​​what they are like and what they expect of you, I recommend that you consult this section to find out what content they consume and get inspired for your next videos.
About us and this blog
We are a digital marketing company with a focus on helping our customers achieve great results across several key areas.
Request a free quote
We offer professional SEO services that help websites increase their organic search score drastically in order to compete for the highest rankings even when it comes to highly competitive keywords.
Subscribe to our newsletter!
This form is currently undergoing maintenance. Please try again later.
In the aftermath of Fashion Week, Natixis Payments analyzed anonymized transactions…
[easy-share counters=1 counter_pos="inside" native="no" hide_total="yes" fullwidth="yes" fullwidth_fix="100"]