How the pandemic has changed our purchasing criteria
Today, a majority of consumers – from all geographies and demographics – are redefining their values ​​and basing their purchasing decisions on criteria other than price and quality, according to a new Accenture report.
The 16th Accenture's annual report, based on a survey of more than 25,000 consumers in 22 countries including France and entitled " Life Reimagined: Mapping the motivations that matter for today's consumers Aims to understand how businesses can take advantage of this shift in consumer expectations.
Consumption: a new scale of values
50% of those questioned are coming out of the pandemic having rethought their behavior and values ​​as consumers.
They have reassessed what is important to them in life and are focusing more and more on their personal goal. This has a direct impact on what they buy, how and why.
In addition, 33% of consumers surveyed saw their values ​​and their purchasing mentality evolve.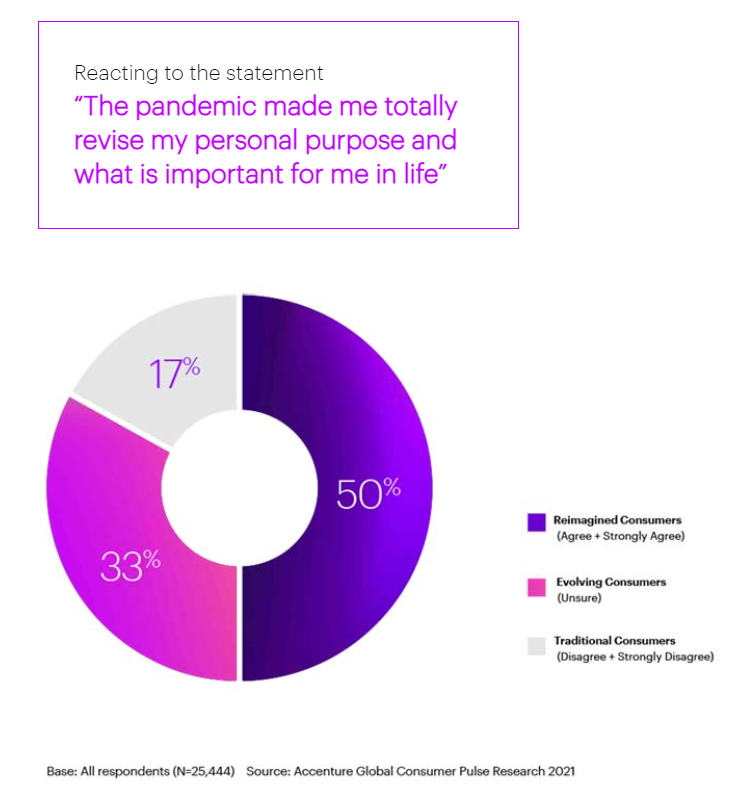 Interestingly, the unprecedented pandemic experience had no impact on the purchasing values ​​of 17% of those surveyed.
"While commerce is picking up again around the world, the consumer we used to know is no longer. Today's consumer is looking for a different relationship with brands.

Brands must reassess and rebuild their relevance in the face of these new purchasing values, and anticipate responses to the new needs of their consumers.

Leaders face a critical choice: to own these developments and create experiences that really matter, or ignore them and miss an opportunity to differentiate themselves and generate sustainable growth ".

says Sohel Aziz, Executive Director of Accenture Interactive France and Benelux.
The new purchasing criteria
This study analyzes more than 80 individual criteria across 14 business sectors.
She concludes that 5 distinct criteria have an increasing influence on the purchasing decisions of consumers.
These 5 criteria which now prevail over price and quality are as follows:
the health and the security,
the service and the accompaniment personnel,
the ease and the comfort,
the origin some products,
and the confidence and the reputation.
Perhaps more striking: These 5 factors, which previously mattered to certain specific demographic groups – Gen Z and Millennials – have now reached a tipping point and are considered essential for all demographic groups of consumers.
The 3 types of post-pandemic consumers
The study also identified 3 categories of consumers:
– Consumers "reinvented", who reassessed their existential priorities to focus on the themes that matter to them (what directly impacts the products they buy, the way they buy them and the motivations for these purchases)
– "Evolving" consumers, which describe a change in their purchasing values ​​and mentalities
– "Traditional" consumers, for which the purchase criteria remain unchanged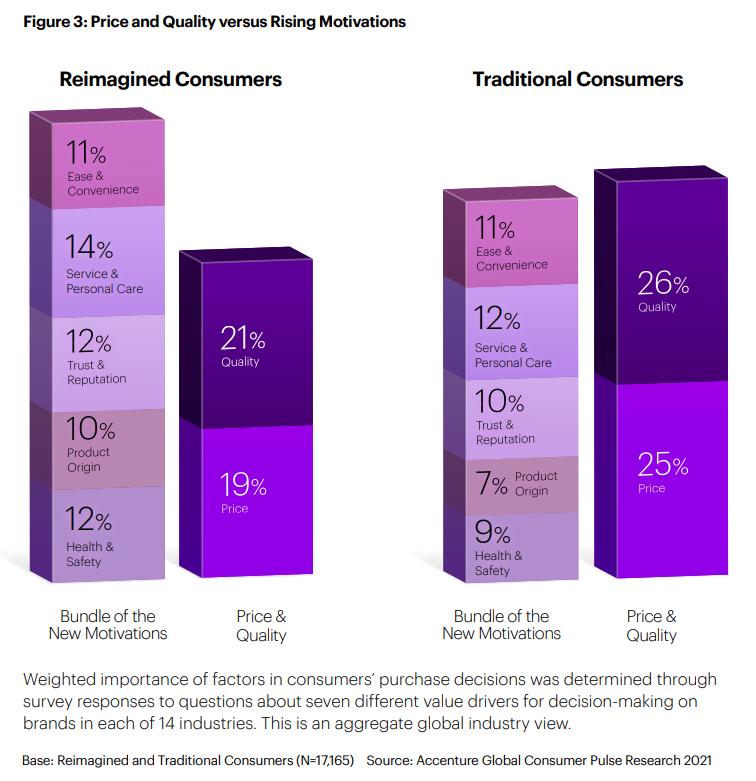 "If they want to generate more value and growth, leaders must act now: they must rebuild their strategy and set new standards to meet consumer expectations, and then exceed them.

Now, brands can no longer be satisfied with price and quality to stand out. Leading companies in their market must provide consumers with predictable, safe products and shopping experiences that minimize the risk of harm to people and the environment.

These five criteria form the new foundation for attracting the post-pandemic consumer and will be essential for brands that aspire to grow as the world emerges from the accelerated changes of the past 18 months. "

says Isabelle Lafont, executive director at Accenture.
Health and safety: of paramount importance
Consumers are asking brands: Do you ensure my safety and that of my neighbors? And what about your employees?
For "reinvented" consumers, health and safety occupy a significant place: 71% (vs 66% in France) of them consider it crucial that companies give priority to health considerations, in all their activities, vis-à-vis – in the eyes of their consumers as well as of their employees.
71% (vs 82% in France) of "reinvented" consumers believe that companies / brands have as much responsibility as governments for the health of society.
Two-thirds (68%) of "reinvented" consumers would switch tour operators if they suspected a lack of health and safety.
Customer service and personal support at the top of the list
Consumers are asking brands: Do you remember me ? Will my experience with your brand be as personal as it gets? Are you there for me when I need you?
More than half of 'reinvented' consumers say they would switch brands if it didn't offer clear and simple options for contacting customer service, or didn't provide clear answers about its levels of service on the market. economic / societal or pandemic-related issues.
In addition, 50% (40% in France) of "reinvented" consumers say they have been disappointed by many companies, which they blame for insufficient support and a lack of understanding of their needs during this difficult period.
Ease and comfort are essential issues
Consumers are asking brands: Are you coming to meet me? In the digital world? In the physical world? With a mix of the two? And are you able to provide me with what I need, when I need it, omnichannel?
A large majority of "reinvented" consumers (57%) would change brands if it "did not offer a new fast and flexible delivery option, for example click-and-collect or drive".
In the healthcare sector, "reinvented" consumers also appreciate the comfort of virtual medical appointments: 51% of them say that they would change healthcare professionals if they did not accept the appointment booking. – you virtual instead of a physical visit, when the context lends itself.
The origin of products is increasingly important
Consumers are asking brands: What about the environment and social and societal responsibility? Can you help me make sustainable choices? Can you help me support my local community?
"Reinvented" consumers want to know what a product is made of, how it was made and how far it has been transported.
76% (74% in France) of them say they are attracted to brands that apply strict ethical rules in the choice of services and materials they use.
In addition, 65% (62% in France) of "reinvented" consumers prefer to buy from environmentally friendly companies.
Trust and reputation influence purchasing decisions
Consumers are asking brands: Can I be confident that you will do what is right for me, and not just your business? Can I be confident that you are who you claim to be and that you stand up for the values ​​that you display?
Across many industries, a majority of 'reinvented' consumers said they would switch providers if they 'did not take visible action for positive social impact – for example in terms of inclusion and diversity, environmental protection or public health protection ".
For example, in the travel and life insurance sectors, the demonstration of "strong ethical values" constitutes the first or second factor of motivation or loyalty for "reinvented" consumers.
---
About the study
Accenture conducted its 16th annual Global Consumer Pulse Research to better understand consumer preferences, opinions and behaviors globally.
This online survey of 25,444 consumers aged 18 and over in 22 countries was designed to identify shifts in consumer expectations and understand how businesses can harness these shifts to achieve new levels of growth and competitive agility . The field survey was carried out between December 2020 and February 2021.
The full report is available at www.accenture.com/ConsumerResearch.
About us and this blog
We are a digital marketing company with a focus on helping our customers achieve great results across several key areas.
Request a free quote
We offer professional SEO services that help websites increase their organic search score drastically in order to compete for the highest rankings even when it comes to highly competitive keywords.
Subscribe to our newsletter!
This form is currently undergoing maintenance. Please try again later.
In the aftermath of Fashion Week, Natixis Payments analyzed anonymized transactions…
[easy-share counters=1 counter_pos="inside" native="no" hide_total="yes" fullwidth="yes" fullwidth_fix="100"]